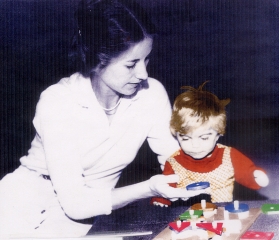 Adam and his forever Mommy, spring, 1982
Adam was beautiful.

His body was frail and but his spirit was strong and joyful. He could laugh and cry.

He had his own level of intelligence that couldn't be measured by tests or rules.

Adam was so much more than Cornelia de Lange Syndrome, the condition with which he was born.

I thought he would be my forever child.

But Adam died.

Adam's father, Adam's sitter, the coroner, state appointed psychologists, social workers,

Child Protective Services, police officers, prosecuting attorneys, and a grand jury –

accused me of murdering him.

I was supposed to be innocent until proven guilty.

Initially, it didn't work that way for me.

I couldn't prove I was innocent.

Life isn't like what I was taught in church, or school or what I saw on TV.

Chaos doesn't discriminate between the evil and the naïve.

This website was created to celebrate the life and mourn the passing of a special child,

Adam Benjamin Clark.